Flow Chart is a visual representation or algorithm or a system. It has invariable importance in programming as well as sometimes during business management, Flow charts are one of the most popular PowerPoint presentation types. I will you show you how to create flow charts on the go
You can access flowchart custom shapes either through Insert menu or Shapes tab from the ribbon. There are several flowchart shapes, if you are aware of the functions of each specific shape in a flowchart, go ahead and use them. There are several shape functions such as calculation, decision, input/output e.t.c, Just Google it
You need to create a layout for your basic flowchart. Once you have the idea of the flowchart you are going to create. First create the shapes required. You can format and position them later
Arrange them in order to maintain the flow. Once you've done that, you can connect those shapes either by using arrow shapes or lines or connectors.  From Shapes select Lines and drag them towards each other. To make sure each shape is connected to form a flow chart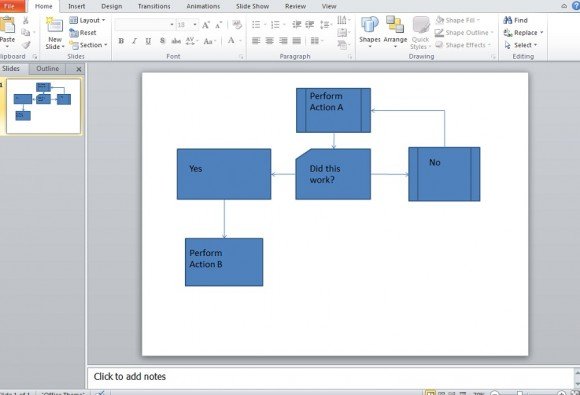 Now using Word art or just Text Box, you can add labels to your flow chart. Once you've done that. You can start coloring the flowchart and add life to it. Make sure the text is legible
Easier way to create Flow Chart
To help you position your Flow Chart shapes and easily create the layout. Go to View -> Grids and Guides for easier designing.
If you don't want to put up with all this and want to create a spectacular flowchart within seconds. You can make use of Free Flow Chart templates available on the web
Author: Mahesh is a social media analyzer at a top I.T firm in India. He frequently works with PowerPoint and shares his knowledge through PowerPoint Tutorials and also shares PowerPoint Templates
Related Posts:
Consumer Previous of Office 13 has been recently update which left many users impressed with these updated tools.
My first Hands on PowerPoint 2013 via the consumer preview revealed Microsoft did a complete overhaul from it's predecessors. The new touch, cloud storage and web functionality brought in many additional feature sto impress it's users who have been faithful to this product since over a decade
1. Metro Interface: PowerPoint now sports a all new Metro Interface completely optimized for touch screen users (Tablets) running on Windows 8. The Ribbon UI prominent from it's predecessor Office 2013 is improved and works conditionally when Powerpoint is being run on a Tablet.
2. Improvised HomePage: The HomePage or the Homescreen which is displayed when the user launches the application, is improvised featuring web and local templates to work with and the sidebar consists of links to your recent works. Additionally you can sign in your Windows Live or MSN account from here
3. Color Schemes: PowerPoint 2013 Templates will now sport multiple color schemes you can easily choose from. You no longer to need use a rather completely new template or edit the whole template to change the color scheme, you can use it with different colors by default
4. Cloud Storage: You can now directly upload your PPT to your SkyDrive Account. There hasn't been any update whether it adds compatibility to DropBox, GDrive e.t.c, Uploading PPT was previously possible through Google Docs plugin which directly integrates the presentation with the Google Docs account
5. Support for Web Elements: PowerPoint 2013 has updates it's support for web resources like photos, videos e.t.c, You can directly embed videos, photos from the web, doesn't require local streaming. As mentioned above, You can also import these elements from your Cloud Storage account
6. Support for Multiple Resolutions: If you going to present your PowerPoint presentation in a widescreen monitor, you no longer to need to manually edit the aspect ratio and resolution which is a hefty task. The Powerpoint 15 has built in, default support for widescreens, say Goodbye to all the hassle
Microsoft also did various UI changes in PowerPoint 2013. Everything feels smoother, from your movement with the cursor if you type, for the way animations show up in your presentation. Microsoft in addition has tried to improve the feel and look of the interface
Author Bio:- GowthamN is a PC addict who digs on latest updates from Microsoft, Macand Apple. He manages PowerPoint Presentation site
Incoming search terms:
powerpoint 2013
powerpoint 2013 logo
power point 2013
logo powerpoint 2013
[keyword]
Related Posts: