Microsoft recently announced some intuitive updates to both these service. Office 365 and Office 2013 are two terms, many users get confused with.Microsoft office 365 has been designed for those who require IT support & the latest administrative tools. Office 2013 is an upcoming version of Microsoft Office, as desktop and cloud-based suite for Windows and Mac. Cloud Suite is designed for the general PowerPoint users.
Office 365 is a set of subscription based software services which needs monthly or periodic payment of fees to the Microsoft Corporation. Office 2013 is a suite of various desktop based applications. Office 365 was announced in the autumn of 2010 but was publicly released on June 28, 2011. Development of Office 2013 was started in 2010 & came to an end on October 11, 2012.it was planned to release in the first quarter of 2013.
Microsoft office 2013 is through the subscription of office 365.Office 2013 support is comprised of a few operating systems such as windows RT, windows 8, windows 7, windows server 2012, windows server 2008 & R2. It is available in 33 languages.

Products listed in Microsoft Office 365
Microsoft Exchange online
Microsoft SharePoint online
Microsoft Link online
Office professional plus
Office Web Apps
Office Web Apps takes your presentation and online exposure to the next level with the set of tools.
New features of Office 2013
Ribbon interface with a  flat UI look and delicate animations while typing in Word and Excel.
New graphical options in Microsoft Word.
New lines of alignment while moving the objects.
Online picturorial support.
Resume exactly where you've paused in MS Word & PowerPoint.
New slide designs, animations & transitions in PowerPoint 2013.
Support for Outlook.com & Hotmail.com in Outlook.
Support for Skype and Yammer.
Various new Chart diagrams in Excel 2013.
You can merge shapes to create millions of new shapes.
The most significant update of Office 2013, Microsoft added various integration and bridge options for PowerPoint to sync with cloud storage.
Easy data recovery options.
Author: Nekkanti is a PowerPoint Expert who blogs at PPT Templates blog
Related Posts:
Flow Chart is a visual representation or algorithm or a system. It has invariable importance in programming as well as sometimes during business management, Flow charts are one of the most popular PowerPoint presentation types. I will you show you how to create flow charts on the go
You can access flowchart custom shapes either through Insert menu or Shapes tab from the ribbon. There are several flowchart shapes, if you are aware of the functions of each specific shape in a flowchart, go ahead and use them. There are several shape functions such as calculation, decision, input/output e.t.c, Just Google it
You need to create a layout for your basic flowchart. Once you have the idea of the flowchart you are going to create. First create the shapes required. You can format and position them later
Arrange them in order to maintain the flow. Once you've done that, you can connect those shapes either by using arrow shapes or lines or connectors.  From Shapes select Lines and drag them towards each other. To make sure each shape is connected to form a flow chart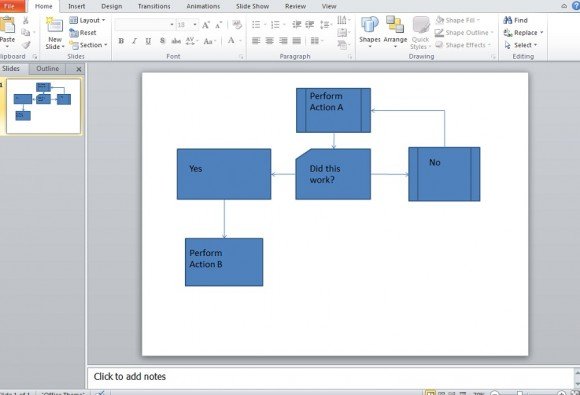 Now using Word art or just Text Box, you can add labels to your flow chart. Once you've done that. You can start coloring the flowchart and add life to it. Make sure the text is legible
Easier way to create Flow Chart
To help you position your Flow Chart shapes and easily create the layout. Go to View -> Grids and Guides for easier designing.
If you don't want to put up with all this and want to create a spectacular flowchart within seconds. You can make use of Free Flow Chart templates available on the web
Author: Mahesh is a social media analyzer at a top I.T firm in India. He frequently works with PowerPoint and shares his knowledge through PowerPoint Tutorials and also shares PowerPoint Templates
Related Posts: